Kirtan By Boston Chapter Children
Shabad

Singers

Raga

Tala

Sri Guru Tegh Bahadur's Shahidi Purab
Added November 30, 2003
Har Jas Re Mana Gaile
Amrit & Mehr
Tilang
Tintaal
Sadho Gobind Ke Gun Gavoh
Simran & Vijayant
Tilang
Tintaal
Re Man Ram Sio Kar Preet
Gurleen and Simran
Khamaj
Tintal
Bal Chutkyo Bandhan Pare
Avneet & Baljot
Bindrabani Sarang
Tintaal
Toso Na Nath Anath Na Mosar
Deep
Tilang
Tintaal
Kahe Re Ban Khojan Jayee
Sukh
coming soon
Dhanasri
Tintaal
Added August, 2003
Thakur Tum Sarnayi Aaya
Simranjit Singh & Vijayant Singh1
Malkauns
Tintaal
Lodinda Sajan Mera
Amrit Kaur & Mehr Kaur
Bhoopali
Tintaal (Punjabi Theka)
Har Har Simro Sant Gopala
Baljot Kaur & Deepinder Singh
Yaman Kalyan
Tintaal
Bisar Gayee Sabh Tat Parayee
Avneet Kaur
Asavari
Tintaal
Savan Saras Mana Ghan Barsai
Amrit Kaur & Mehr Kaur
Miyan Ki Malhar
Tintaal
He Gobind He Gopal
Simranjit Singh & Vijayant Singh2
Miyan Ki Malhar
Dadra
Added July, 2003
Jagat Jalanda Rakh Lai Apni Kirpa Dhar
Amrit & Mehr
Darbari Kanada
Tintaal
Nachat Firat Mor Badal Karat Ghor
Amrit & Mehr
Bhimpalasi
Soolfaak
Bisar Gayi Sabh Tat Parayi
Amrit & Mehr
Asavari
Tintaal
Dhanur Baan Dhare Chhakai Chhail Chhare
Avneet & Baljot
Bhairavi
Dadra
Ek Rati Bin Ek Rati Ke
Jasleen & Gurleen
Bhoopali
Tintaal
Mittar Pyare Nu
Simran & Vijayant
Bihag
Rupak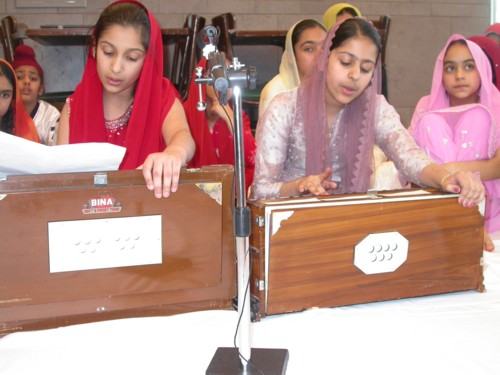 Mehr Kaur and Amrit Kaur offering Kirtan Seva at the Boston University Vaisakhi Program in April 2003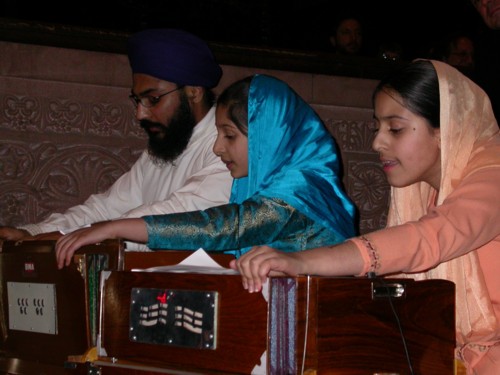 Mehr Kaur and Amrit Kaur offering Kirtan Seva at the Interfaith Witness for Peace at the Trinity Boston Church on February 28, 2003; Amritpal Singh Provided Tabla accompaniment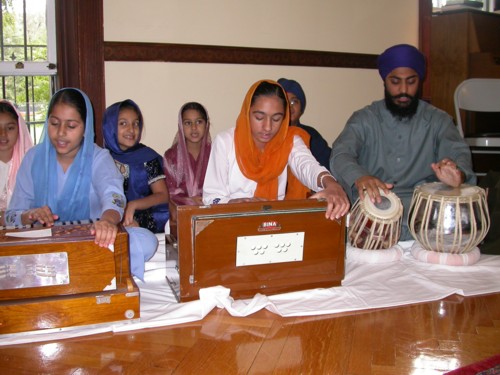 The children offering Kirtan Seva at the Interfaith Vigil Against Hate at the Unitarian Church in Boston
Mehr Kaur (9) and Amrit Kaur (11) are members of the Boston chapter of the Gurmat Sangeet Project. The first two recordings presented here in the July archive are from the Interfaith Witness for peace held at Trinity Boston Church on February 8, 2003 and the 2003 Vaisakhi Samagam at Boston University. The third shabad was sung at the Interfaith Vigil Against Hate at the Unitarian Church in Boston.
The voice heard before the Shabad Jagat Jaland Rakh Lai begins is that of S. Sham Rang Singh Ji, Granthi of the Millis Gurdwara, who provided a translation of the shabad.
The other shabads by Avneet, Baljot, Jasleen, Gurleen, Simran & Vijayant were recorded at Millis on April 6 2003.
The archive was updated in Augist 2003 with shabads that the children sang during thr visit by Prof. SUrinder SIngh and his Jatha from the Sikh Musical Heritage group.
The archive was updated on November 30, 2003, with shabads that the children sang on the occasion of Sri Guru Tegh Bahadur's Shahidi Gurpurb.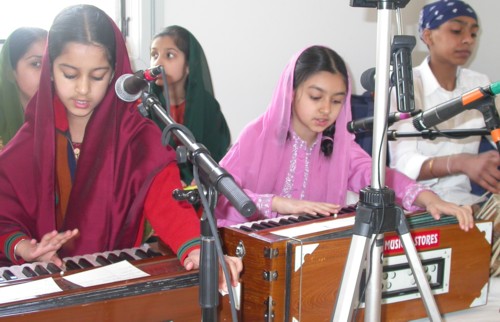 Avneet and Baljot at Millis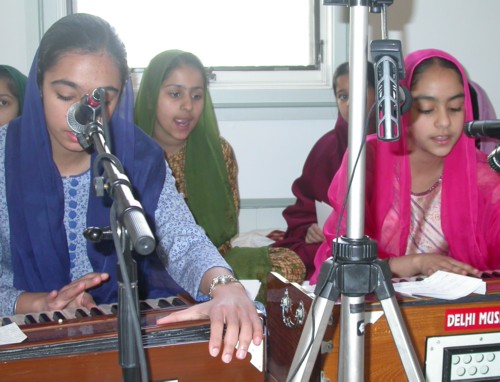 Gurleen and Jasleen at Millis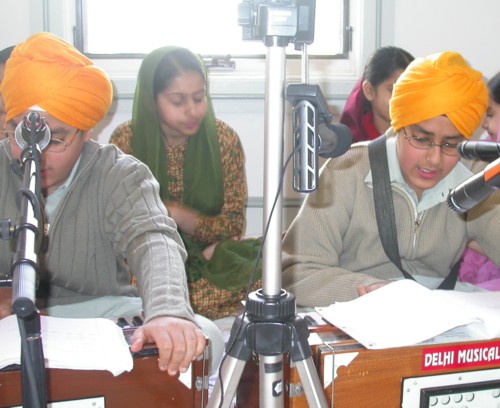 Simran & Vijayant at Millis