Bhai Devinder Singh
Recorded Live in Boston, 2003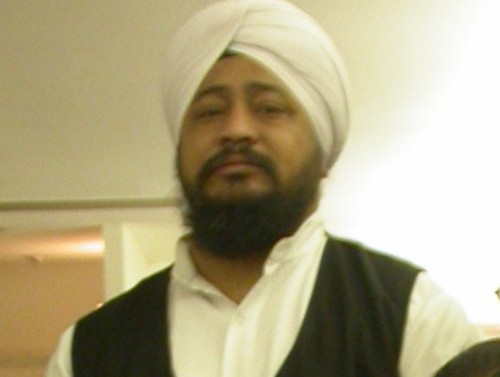 Bhai Devinder Singhat The New England Sikh Study Circle, Massachusetts in Aril 2003
Bhai Devinder Singh is the younger brother of Bhai Dilbagh Singh and Bhai Gulbagh Singh. He provides vocal support to his brothers and is an excellent singer in his own right. Bhai Devinder Singh's style of singing is much closer to Khyaal than traditional Gurmat Sangeet.
These recordings were made in an informal session at my home in Hopkinton, MA during the Jatha's recent visit to the Boston area.
Two shabads, two renditions of Anand Sahib and a Khayal are presented. The Khayal has nothing to do with Gurbani and Gurmat Sangeet. It is presented largely to introduce Bhai Devinder Singh.
Tabla accompaniment is provided by Iqbal Singh, Devinder Singh's brother.