Bhai Dharam Singh 'Zakhmi'
(Note : scroll down for MP3s)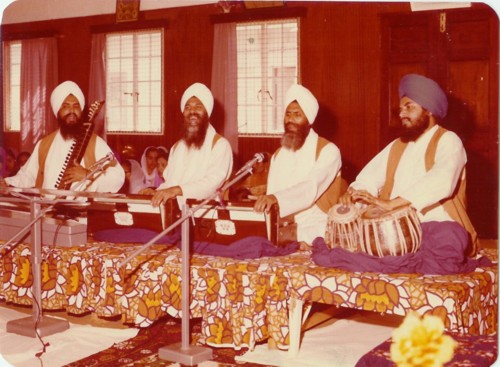 Bhai Dharm Singh Zakhmi Ji and his Jatha in Kenya, in 1976.
(l - r Bhai Amrik Singh Zakhmi, Bhai Shamsher Singh Zakhmi, Bhai Dharm Singh Zakhmi, Bhai Hariqbal Singh Zakhmi)
Photograph contributed by S.Gurtejpal Singh Ji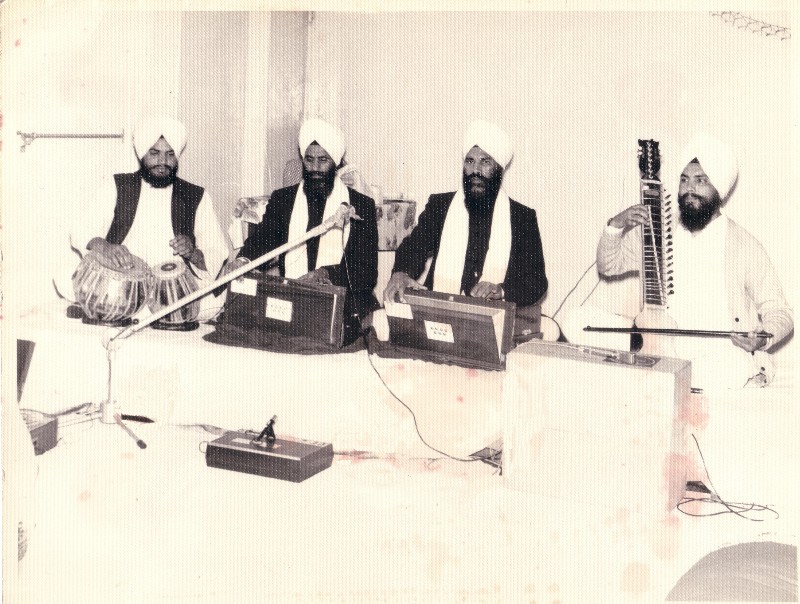 (r-l Bhai Amrik Singh Zakhmi, Bhai Shamsher Singh Zakhmi, Bhai Dharm Singh Zakhmi, Bhai Hariqbal Singh Zakhmi)
Photograph contributed by S.Tharandeep Singh Dariwal

Note : If you have any photographs or recordings of Bhai Dharam Singh Zakhmi or Bhai Shamsher Singh Zakhmi, please send them to sarbpreet@comcast.net
Bhai Dharam Singh Zakhmi was one of the greatest Ragis of the 20th Century. Bhai Dharam Singh Ji became an Amritdhari in 1947. He spent years studying Gurbani and was an excellent and erudite speaker. In particular Bhai Sahib was very familiar with the Bani of the Dasam Granth as well as the Ghazals of Bhai Nand Lal. Often Bhai Sahib and his Jatha would sing Persian Ghazals by Bhai Nand Lal accompanied by the beautiful translations of Bhai Megh Raj Garib Ji. His Jatha included his brother Bhai Shamsher Singh Ji, who particularly in the latter years of Bhai Sahib's life did most of the musical 'heavy lifting. Tabla accompaniment was provided by Bhai Dharam Singh Ji's son Bhai Hariqbal Singh and Dilruba and vocal accompaniment was provided by his other son Bhai Amrik Singh.
The Jatha was absolutely unique in in its rendition of Gurbani. A key feature of their singing was the fact that their ucharan (enunciation) of Bani was always crystal clear. While the Jatha was very sophisticated musically and rigorously adhered to the rules of Raga and Tala, at no point did they ever let the Raga overpower the Shabad, which is the hallmark of a good exponent of Gurmat Sangeet. Bhai Shamsher Singh was blessed with a buland (soaring) voice which he used to great effect. Bhai Hariqbal Singh, while providing excellent tabla accompaniment also provided very able vocal support. The interplay between Bhai Shamsher Singh and Amrik Singh was truly magical. Another hallmark of the Jatha's singing was their very effective use of Parmans, where they would often sing selections from Gurbani, relevant to the shabad being rendered, with great elegance.
Bhai Dharam Singh Ji's extremely erudite and crisp Katha and very effective use of the language enhanced the Jatha's efforts even further. He would take great delight in quoting Gurbani, particularly enjoying the sublime poetry and the cascading cadences of Guru Gobind Singh Ji's compositions.
Bhai Dharam Singh Zakhmi belonged to the village of Manko in District Jalandhar. The village is close to Shamchaurasi, home to the famous Pakistani Khayal singers Salamat Ali Khan and Nazakat Ali Khan. Bhai Sahib was oftenr eferred to as 'Shamchaurasiwale' or belonging to Shamchaurasi. Even though he had received the gift of music from his forefathers, Bhai Sahib studied Gurmat Sangeet under the guidance of Prof. Darshan Singh Komal, another giant in the world of Gurmat Sangeet.
Bhai Dharam Singh never entered the service of any Gurdwara or institution in his lifetime. He and his Jatha traveled extensively, delighting Sikh Sangats in various parts of India and abroad. In particular Bhai Sahib visited Singapore, where the foresight of the local Prabhandaks in the 1960s resulted in his being extensively recorded.
The Gurmat Sangeet Project is extremely proud to feature a huge archive of recordings by Bhai Dharam Singh Zakhmi. The recordings were obtained from two sources. Most of the 'Singapore recordings' were given very generously to me by my good friend S.Hardev Singh Sahota of New Jersey, who is an afficionado, student and teacher of Gurmat Sangeet. Hardev Singh Ji has done an outstanding job learning the nuances of Gurmat Sangeet and then working very hard to teach his two children, who are now excellent exponents of Gurmat Sangeet, having started at a very early age. Hardev Singh Ji is an admirer of Gyani Dyal Singh and has benefited greatly from Gyani Ji's books. Some additional recordings were provided by S. Baljit Singh Bhikhu, who was kind enough to send his treasured recording for inclusion in the Gurmat Sangeet Project archives. It is our hope that other lovers of Gurmat Sangeet will be similarly inspired by this humble effort to share their recordings with the sangat at large.
Finally many thanks are due to three young Gursikhs from the Boston area, S. Harpreet Singh, S.Amarpreet Singh and S. Manmeet Singh who took on the arduous task of digitizing this huge archive or recordings and making it possible for it to be hosted on this website.
Note : A few portions of this write-up were excerpted from the article 'Ragi Jatha of Bhai Dharm SIngh Zakhmi' by Dr. Jagir Singh, which appeared in the March 1995 eidtion of Amrit Kirtan.
Since the archive is so large, it will be uploaded to the website in increments. Please check this page often for new recordings. Enjoy the magnificent kirtan and share it generously with other lovers of Gurmat Sangeet.
The first piece in the archive is a brilliant rendering of the Asa Di Var, with some beautiful shabads in Morning Ragas such as Asa, Ahir Bhairav, Gunkali etc. The recording below titled Asa Di Var Part 2 also contains a magnificent rendition of the shabad Jap Gobind Gopal Lal in Raga Madhuvanti. The elaborate and majestic Mangla Charan at the start of the Shabad is particularly noteworthy.
The second part of the archive (uploaded on 8/30/03) contains some of my personal favorites. The Mangla Charan on Chandan Ka Birva Bhalaa is again sublime. It is unfortunate the Kirtan like this is fast disappearing from our Gurdwaras today. The Bhav and Ras in the compositions used from singing Khub Khub Khub and Kavan Gun Pranpat Milo Meri Mai is beyond description; it just has to be experienced. The brief Vyakhya that accompanies Kirt Tuhari Kou Na Par Paiyat Hai provides a glimpse into Bhai Dharam Singh Zakhmi Ji's erudition as well as his love of Guru Gobind Singh Ji's poetry.
By popular demand, the archive was enhanced on September 25, 2004 with 36 additional shabads by Bhai Sahib and his Jatha.
January 31 2007
The archive was enhance to include shabads contributed by S. Baljit Singh Bhikhu Ji.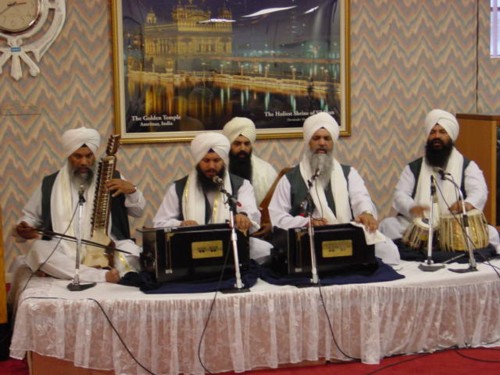 Bhai Amrik Singh Zakhmi and his Jatha in Toronto (2000) Photograph, courtsey S. Baljit Singh Bhikhu