Bhai Dilbagh Singh, Gulbagh Singh Ji
Recorded Live in Boston, 2003
Bhai Dilbagh Singh Ji passed away in October 2004. The Ragi Jatha of Bhai Dilbagh SIngh Gulbagh Singh was unique in the world of Gurmat Sangeet. Their singing did not conform to the pure traditions of Gurmat Sangeet. They did not sing any Dhrupad compositions or Partaals. Bhai Dilbagh Singh, a humble and strightforward soul, would characterize himself as primarily a Khayaliya. Even though their style was not traditional, Bhai Dilbagh Singh Gulbagh Singh will be remembered not as Khayaliyas but as Kirtaniyas. They had memorized prodigious quantities of Bani and their Parmans would alsways be rich and appropriate. Their primary musical context, unequivocally, was Gurmat Sangeet. Musically, the Jatha was excellent and absolutely uncompromising in their commitment to singing according to the traditions of Raga.

The Gurmat Sangeet Project is delighted to offer additional recordings of the Jatha, made during their visit to the Boston area in 2003.
I would like to offer a personal anecdote from their last visit to Boston in 2003. The jatha was here for about 10 days or so; usually we have Diwans in the Boston Gurdwara only on Fridays and Sundays. DUring their visit, we had daily diwans in which a few members of the Sangat would show up to listen. Regardless of the numbers in the Sangat, Bhai Sahib and his Jatha would always give their best, presenting a wide variety of shabads in many Ragas frmn their repertoire. SInce I would record the Jatha, I would generally sit right at the foot of the little 'stage' on which they sat while singing; it was perhapes very obvious from my body language that I enjoyed their Kirtan immenseley. DUring their last Diwan in Boston, in which Baisakhi was being celebrated, the darbar hall had got tremendously crowded; I set up my recording equipment and left my usual spot to make room for other people, close to the stage. As i sat, to one side, savoring their magnificent rendering of the Shabad Hou Qurbane Hou Qurbane Hou Qurbane Jaoun, in Raga Brindabani Sanrang, i felt a gentle nudge. Of of the kids who I teach had been sent by Bhai Sahib to fetch me ! I was not in my usual spot, and in the midst of singing, Bhai Sahib noticed that and summoned me; for a short while, jsut through the act of listening and appreciating the music, I had somehow become a part of it ! It was en extremely touching moment for me personally. It spoke volumes about the warmth of Bhai Dilbagh Singh Ji's personality, who was for the most part, quite reserved and recitent. Needless to say, I was transfixed to my spot for the rest of the program !
Bhai Dilbagh Singh Ji, wherever you are, May Waheguru Bless you and thank you for the wonderful Kirtan that you have left behind.
(The Gurmat Snageet project would welcome articles on Bhai Dilbagh Singh Ji and his Jatha, as well as an obituary written by anyone who knew him well)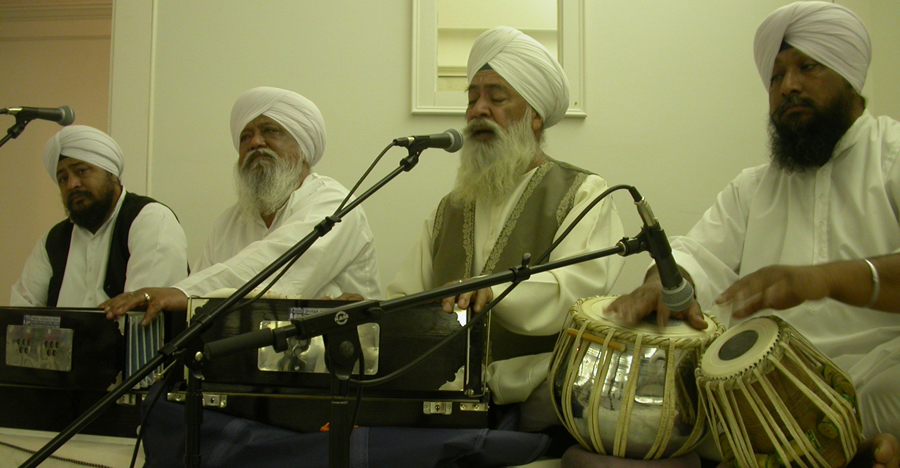 Bhai Devinder Singh, Bhai Gulbagh Singh Ji, Bhai Dilbagh Singh Ji & Bhai Iqbal Singh (l to r) at The New England Sikh Study Circle, Massachusetts in Aril 2003
The Ragi Jatha of Bhai Dilbagh Singh, Gulbagh Singh Ji, traces its ancestry to Bhai Mardana. Their style of singing is very close to Khayal, the predominant Hindustani Classical vocal form today. Bhai Devinder Singh provides vocal support and Bhai Iqbal Singh provides tabla accompaniment.