The Fourth Annual Gurmat Sangeet Darbar
March 29 / March 30, 2008 in Toronto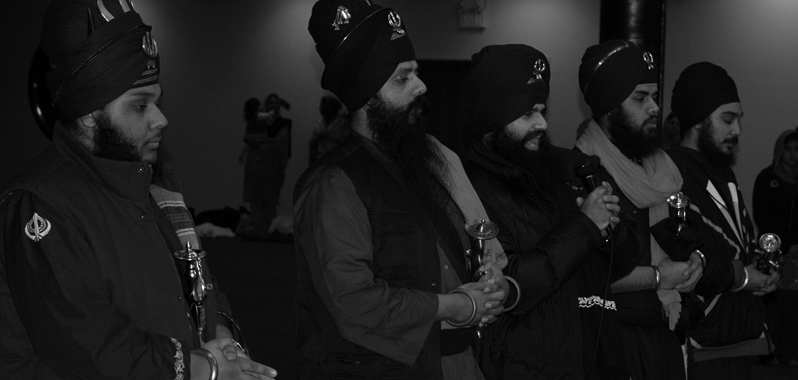 Ardas at the conclusion of the Saturday Diwan; 2008 Gurmat Sangeet Darbar
The 2008 Gurmat Sangeet Darbar was held on March 29 and 30th at the Mississisauga Gurdwara Sahib in the Totonto Area. For an informal article on the program, please visit the Gurmat Sangeet Blog.
Professor Purshottam Singh Ji, a Toronto area teacher and Ustad, who has dedicated his life to serving Gurmat Sangeet was honored at the program. Young Kirtaniyas from all over North America, including a large contingent of Professor Sahib's own students, came together for two blissful days, singing Bani according to the time honored traditions of Gurmat Sangeet.
The theme for this year's program was :
jau supnw Aru pyKnw AYsy jg kau jwin ]
ien mY kCu swco nhI nwnk ibnu Bgvwn ]23]
Evanescent, like a dream, know this world to be
All of this is unreal, O Nanak, without Waheguru. ||23||
In addition to featuring young Kirtaniyas, the program included:
· Gurmat Sangeet Learn-a-Shabad Workshop, in which Kirtaniyas, young and old, had the opportunity to learn a new Shabad. A range of material from basic shabads to Partaals was covered according to the needs of each student
· Gurmat Sangeet Appreciation presentation, in which the unique aspects of the Gurmat Sangeet tradition were discussed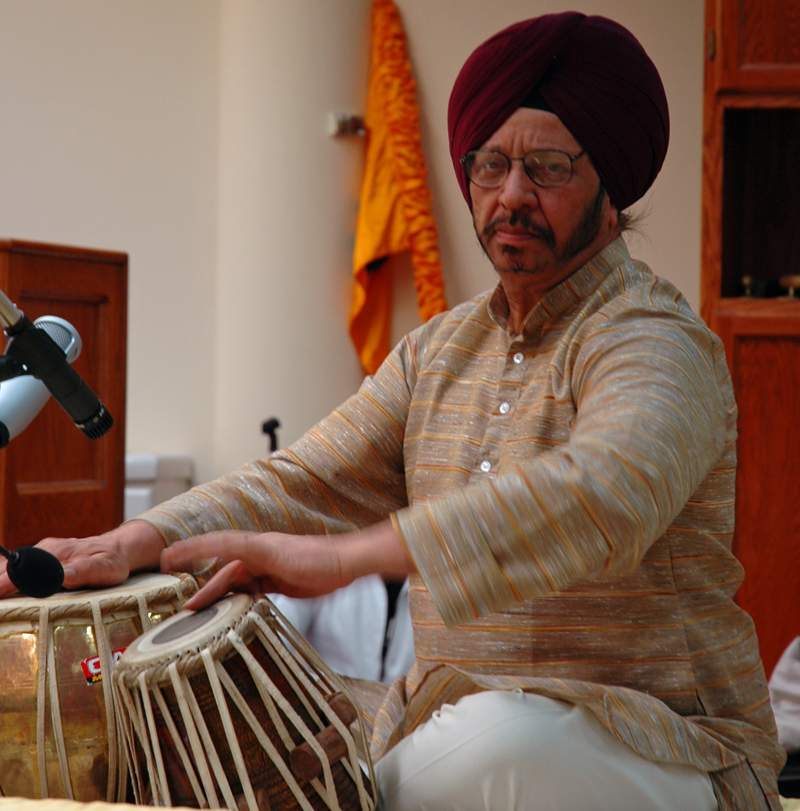 Professor Purshottam Singh Ji at the 2008 Gurmat Sangeet Darbar
This page cpntains recordings from the program.:
Onkar Singh, accompanied by Manraj Singh, Karanjeet Singh and Jagjit SIngh

Gur Poorai Meri Raakh Lee- Bilaval- 823

Ghol Ghumaee Laalana- Tukhari- 1117

Dhan Oho Preet- Kaanraa- 1301 (Darbari Kaanraa)

Mera Baid Guru Govinda- Sorath- 618

Rupinder Singh, accompanied by Gursev Singh, Harman Singh and Jaswinder Singh
Gur Manar Pria- Malhar- 1271

Har Har Simroh- Jaitsree- 698

Prabh Ji Tu Mere Pran- Bilaval- 820

Gur Jaisa Nahi Ko Dev- Bhairon- 1142
Lakhpreet Kaur, Paramveer Singh, Sirjaut Kaur, S. Mohan Singh
Tera Jan Ram- Dev Gandhari- 532

Gurmukh Sakhiyan- Sorath- 648

Man Tu Jot Saroop Hai- Asa- 441

Khoob Khoob Khoob- Bhairon- 1137

Chakar Lage Chakari- Asa- 474

Beet Jahe Beet Jahe- Jaijaivanti- 1352
Rupinder Singh, Mehr Kaur, Amrit Kaur, Jaspreet Singh, Harman Singh, Amandeep Singh
Ram Bhaj Ram- Jaijaivanti- 1352 (Guldasta : Jaijawanti, Des, Tilak Kamod, Tilang, Kalavati, Rageshwari)

Yak Araj Guftham Pes To- Tilang- 721

Maee Main Man Ko Maan- Maru- 1008 (Raga Malkauns)

Man Keha Bisaario- Basant- 1186(Basant , Marwa Ang)

Jal Jasi Dhola Re- Suhi- 794 (Purantan Reet from the Rababi Tradition)


Karanjeet Singh, Bhavpreet Singh, Guneet Kaur, Jagjit Singh
Ghol Ghumaee Laalana- Tukhari- 1117

Meera Dhana Dhil Soch- Tilang- 724
Diljot Kaur , Jaspreet Kaur and Simrann Kaur, Harman Singh
Jaag Leho Re Mana- Tilang- 726

Har Bin Tero- Sarang- 1231

Har Bin Kaun- Sarang- 1253

Re Nar Eh Saachi- Sorath- 633

Beet Jahe Beet Jahe- Jaijaivanti- 1352

Gurmeet Singh and Jagjit Singh
Hamare Ehe Kirpa Keejai- Kalyan- 1321

Har Har Naam Nidhaan- Kaanraa- 1361

Raja Ram Moulya- Basant- 1193
Raviraj Singh, Manraj Singh, Karanjeet SIngh, Bhavpreet Singh, Jaswinder Singh
Strings- Instrumental
Sant Paee Gur- Bilaval- 806

Bandish- Instrumental
Thakur Aiso Naam Tumharo- Gujri- 498

Sahib Mera Meharwan- Tilang- 724
Gurmeet Singh, Chana, The Tabla Guy
Hang- Instrumental
Tabla Ensemble under the guidance of Jagjit Singh
Tabla Ensemble

Baljit Kaur and Professor Sahib
Man Tan Jaapiye- Kalyan- 1322 (Dhamar)

Bahur Hum Kahe Aavenge- Maru- 1103 (Puratan Reet)

Anand Sahib- Ramkali- 917

Basant Chadhhia- Basant- 1176
Karanjit Singh, Mantej Singh, Jasjot Singh
Avho Milho Saheliho- Vadhans- 579 (Raga Madhuvanti)
Jora Singh, Gagan Singh
Yak Araj Guftham Pes To- Tilang- 721
Anju Kaur, Parminder Singh, Surjit Singh





Har Furman Dargeh Ka- Suhi- 792 (Bihag)

Rajkamal Kaur, Harman Kaur, Jagdeep Singh
Pranee Kya Mera- Sorath- 659 (Raga Kedara)
Prabhjot Kaur, Devinder Kaur Monique Kaur, Ivpreet Kaur, Pavneet Kaur, Manjot Singh
Rehan Na Paveh- Suhi- 740 (Puratan Reet)

Pritam Jan Leho- Sorath- 634 (Raga Durga)
Gurleen Kaur, Jasleen Kaur,Tanveer Kaur,Gurbans Kaur




Laaj Na Mar- Gauri- 325 (Raga Ahir Bhairav)
Sumeet Kaur, Ravleen Kaur, Harmanpreet Singh
Sadho Man Ka Maan- Gauri- 218 (Raga Gandhari)
Manvit Kaur, Pavandeep Kaur, Professor Sahib
Jagat Mein Jhooti- Devandhari- 536 (Thumri Ang)
Pavandip Kaur, Baljot Kaur, Jasdeep Singh, Gurjot Singh, Sukhman Singh
Har Bin Koun Sahayi Man Ka- Sarang- 1253 (Raga Todi)
Swati and Shivan Saxena
Salok- Mehala 9
Harpreet Kaur, Jasmeet Kaur, Taranjit Singh, Manvir Singh
Baba Bikh Dekhia Sansar- Asa- 382 (Raga Shivrajni)
Gagandeep Kaur, Simran Kaur, Professor Sahib
Re Nar Eh Saachi- Sorath- 633
Jasmeet Singh, Jagdeep Singh, Anmol Singh
Rehan Na Kohu- Bilaval- 855
Malton Khalsa School
Har Jan Bolat- Malhar- 1265 (Raga Shuddh Malhar, Partal, Tintaal, Iktaal)
Kiran by other local kids
Har Bin Janam- Kedara- 1120

Hamari Pyari Amrit Dharee- Asa- 404 (Raga Hamir)

Pratpal Prabh Kirpal- Bhairao- 1153 (Bhairo Partal, Chartaal, Rupak, Iktaal, Tintaal)

Har Jas Re Mana- Tilang- 727
Many thanks to S. Ajit Singh, who painstakingly recorded the entire program over two days. He then proceeded to clean up and process the recordings, which is a huge, time consuming task. He also took most of the wonderful photographs on this page. Without him, it would not have been possible for The Gurmat Sangeet Project to bring these recordings to you.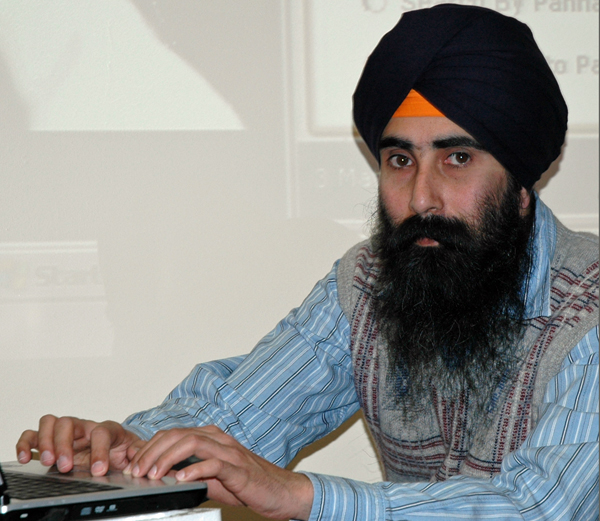 All credit for organizing the 2008 Gurmat Sangeet Darbar goes to S. Gurmit Singh, S. Harvinder Singh and their team of dedicated volunteers, who did a stellar job of making all the logistcal arrangements and ruuning the whole program very efficiently.