The Fifth Annual Gurmat Sangeet Darbar
July 11 / July 12, 2009 in Salt Lake City
The 2008 Gurmat Sangeet Darbar was held on July 11 & 12 at the Sikh Temple of Utah Gurdwara Sahib in Salt Lake City . Bibi Amarjit Kaur Ji, a student of the late Bhai Sahib Santa Singh Ji, was honored for her lifelong contributions to Gurmat Sangeet.The theme for this year's program was Bhagat Bani.
The program also featured Dr. Onkar Singh & Bibi Guneet Kaur from Toronto, S.Sher Singh and his Jatha from the Guru Angad Institute in Maryland and Mehr Kaur and Amrit Kaur from Boston. The program also featured several young kirtaniye from the local sangat. The find of the program was 6 year old Sukhraj Singh, who mesmerized the sangat with his spirited singing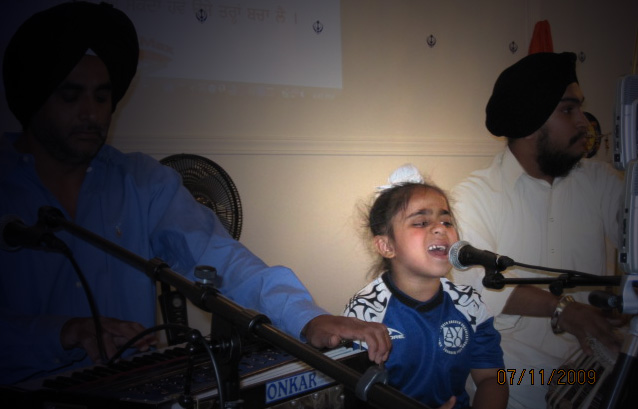 Sukhraj Singh, accompanied by his father Sangara Singh on the harmonium and Bhai Manpreet Singh on Tabla
(Click on Photo for a recording of Sukhraj Singh Singing Jagat Jaland Rakh lai)
The program also included:
· Gurmat Sangeet Learn-a-Shabad Workshop, in which Kirtaniyas, young and old, had the opportunity to learn a new Shabad. A range of material from basic to advanced shabads was covered according to the needs of each student
· Gurmat Sangeet Appreciation presentation, in which the unique aspects of the Gurmat Sangeet tradition were discussed.

This page contains recordings from the program.:
Bibi Amarjit Kaur, accompanied by Sahiba Kaur and Harnarayan Singh

Meri Preet Gobind Sio Jin Ghate

Onkar Singh, accompanied by Manraj Singh, and Harnarayan Singh

Aiso ram rae antarjami

Khub teri pagri mithe tere bol

Tohi mohi mohi tohi antar kaisa

Ab rakho das bhat ki laj

Dar mande thade darbar

Kaoun ko kalank hai


Guneet Kaur, accompanied by Harnarayan Singh, Onkar Singh, Manraj Singh, Amrit Kaur and Mehr Kaur

Dhan dhan oh ram ben baje

Meera dana dil soch

Bhavjal bin shabdai kyon tariya

Dekho bhai gyan ki ayi andhi

Man bhediya dyal seti meti mayi

Mehr Kaur & Amrit Kaur, accompanied by Amandeep Singh, Jaspreet Singh, Manraj Singh and Preetinder Singh
Sher Singh, accompanied by Preetinder Singh, Sammy Singh, Navjot Singh and Gagandeep Kaur

Bavre tai gian beechar na paiya

Moko tar le rama tar le

Mai andhle ki tek

Ab moko bhae raja ram sahai

Sabhai ghat ram bole

Kiran by local kirtaniye

Coming Soon !