Gurmat Vidyalay, Rakabganj Sahib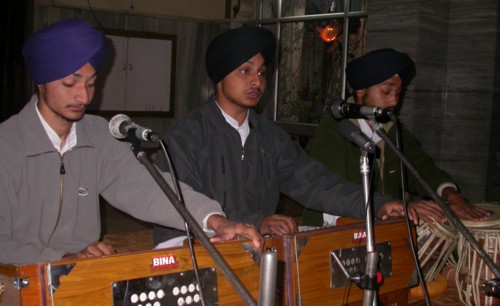 Karamjit Singh, Gurmeet Singh and Manoj Singh, all three aged 18, singing the Asa Ki Var at Rakabganj Sahib on January 14, 2005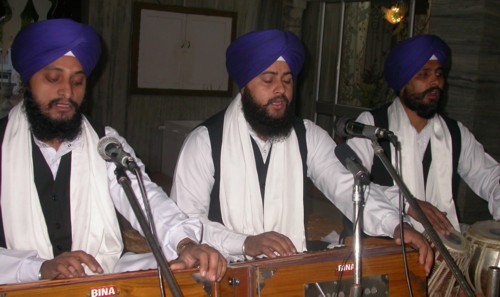 Bhai Gurdev Singh, Bhai Ravinder Singh and Bhai Kavinder Singh, all graduates of the Kirtan Vidyalay, singing the Asa Ki Var at Rakabganj Sahib on January 14, 2005
The Kirtan Vidyalay at Rakabganj Sahib, Delhi is an institution where the traditions of Gurmat Sangeet have been taught for many decades. The Vidyalay is run by Gyani Dyal Singh Ji.
During a trip to Delhi in January 2005, I had the opportunity to record some of the students of the Vidyalay singing the Asa Ki Var at Rakabganj Sahib. The recordings in the page are referenced in the first post in the GurmatSangeet blog.
A few words on the Kirtan :
The first eight Paudis are sung by Gurmeet Singh, Karamjit Singh and Manoj Singh, all fifth year students at the Vidyalay. The first four Paudis are sung in Raga Asa and include a Partal in Raga Asa. The next four are sung in Raga Bhairav and also include a Partal in the same Raga.
The remaining Paudis are sung by Bhai Ravinder Singh, Bhai Gurdev Singh and Bhai Kavinder Singh, who are Huzuri Ragis at Gurudwara Sis Ganj Sahib. They are former students of the Vidyalay and were summoned by Gyaniji to sing this morning at Rakabganj Sahib. The Jatha sang the next sections of Asa Ki Var in Ahir Bhairav, Pahadi, Asavari and Asa, with shabads in the same ragas. Since we were already into the month of Magh, the last shabad was sung in Raga Bahar.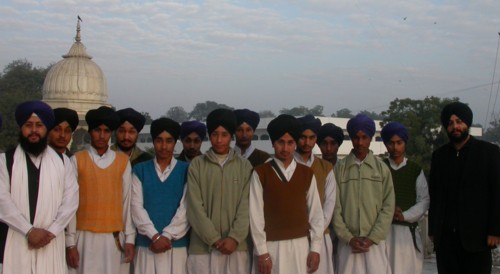 Students of the Vidyalay outside Rakabganj Sahib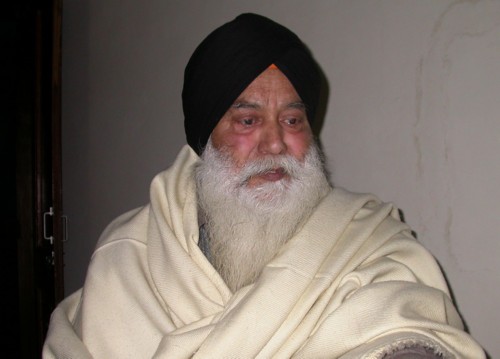 Gyani Dyal Singh Ji