Bhai Gurmej Singh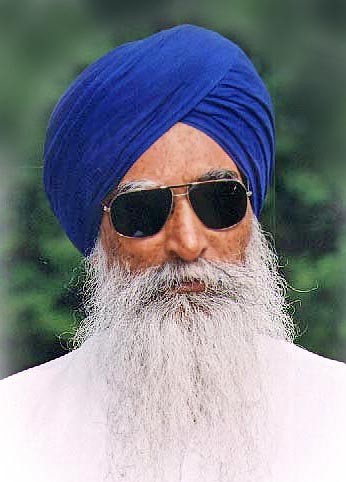 Many thanks to S.Sukhjinder Singh Grewal of Surrey, British Columbia for contributing the above photograph, taken on August 22, 2000 at his home
Bhai Gurmej Singh is a Huzoori Ragi at Sri Harmandir Sahib. Over the past few years several commercial recordings by Bhai Gurmej Singh have become available. While several of these recordings are good they largely fail to capture the unique mystical quality of Bhai Gurmej Singh Ji's Gayki, which becomes apparent whwn he sings in the presence of Sri Guru Granth Sahib. These rercordings were made in 1994 at Bridgewater, New Jersey during Bhai Sahib's only visit to the US. Vocal support was provided by Bhai Amarjit Singh, one of Bhai Sahib's favorite pupils, who broke his heart by leaving his Jatha and staying on in the US. Table accompaniment was provided by Bhai Iqbal Singh Ji, who is no more. The experience of listening to Bhai Sahib was almost magical; an experience I can never forget. Bhai Sahib was in New Jersey between the months of January and March when Raga Basant is sung according to Gurmat Sangeet traditions. We were expecting our first child, Mehr Kaur (now, nine years old and part of the Gurmat Sangeet Project) at the time. I distinctly remember my wife telling me one evening at Bridgewater, as Bhai Sahib sang 'Ghol Ghumai Lalna' in Raga Tukhari that she could feel even our yet unborn child responding to the divine music. Such is the magic of Bhai Gurmej Singh Ji's singing. The Gurmat Sangeet Project is proud to present this recording in Raga Tukhari and other recordings by Bhai Sahib.
Update (December 24 2007)
A few months ago I was contacted by S.Tejinder Singh,, a Kirtan Premi from Ludhiana, who is greatly influenced by Bhai Sahib's kirtan. Upon his urging and encouragement, I have dug up all the remaining recordings from that magical time in 1994 when Bhai Sahib visited with us in New Jersey. There are yet a few more recordings that I have been unable to find and digitize; the search is on !