Bhai Gurmeet Singh 'Shant'
New recordings added 3/29/05; live in Boston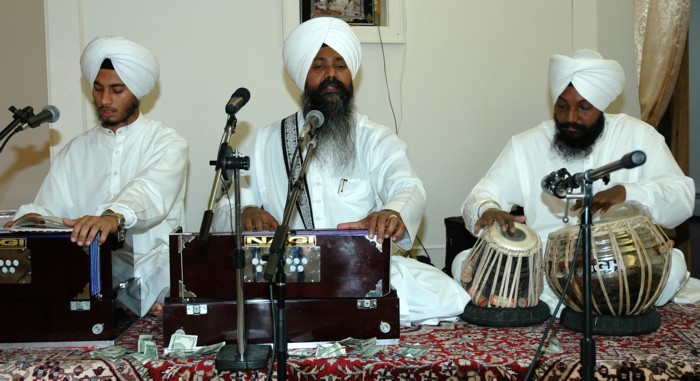 Bhai Gurmeet Singh Shant and his Jatha at the Milford Gurdwara on Sunday, March 27, 2005
( l - r Bhai Manjit Singh, Bhai Gurmeet Singh Shant, Bhai Manjit Singh)
Bhai Gurmeet Singh Shant, who hails from Jalandhar is undoubtedly one of the leading young Ragis in the world of Gurmat Sangeet. Bhai Gurmeet Singh belongs to a long line of Ragis, who trace their musical roots all the way back to the times of the Gurus. Bhai Gurmeet Singh is an extremely hard working Ragi, who spends a tremendous amount of time in disciplined riyaz (practice). The resulting tayyari (musical adeptness) is a joy to behold. Bhai Gurmeet Singh is particularly adept at singing compositions from the Dasam Granth including Raag Malas, Taranas and Guldastas. He is a regular guest at leading Kirtan Samagams in India. The recordings featured on the Gurmat Sangeet Project were made in New Jersey in the summer of 1997. Some of the highlights include some beautiful compositions in various variants of Raga Malhar.
On December 3 & December 4, 2004, Bhai Gurmeet Singh Shant and his jatha visited the Boston area to participate in two kirtan programs. These new recordins are from these two programs. If anything, Bhai Gurmeet Singh has matured in his Gayki over the past 4-5 years. He is an extremely diligent and creative Ragi, constantly expanding his repertoire by learning new compositions and coming up with new ones of increasing musical and rhythmic complexity !
The Gurmat Sangeet Project is delighted to present these new recordings by Bhai Gurmeet Singh Shant.
Shabad

Raga

Tala

Added5/4/05; Recorded at Norwalk, Ct in 2005
Manglacharan
Shree
Rajaram anhad kingri baje
Shree
Added 4/9/05; Recorded on 4/1 & 4/2/05
Koi Jan har siao devai jor
Patdeep
Sarni ayo nath nidhan
Kedara
Mere gobinda
Doe kar jod karo benanti (Bhai Gupal Singh)
Gujri
Hou andin har nam kirtan karo (Bhai Gupal Singh)
Asavari
Sadh sangat asthan hai (Bhai Gupal Singh)
Gunkali
Barse megh sakhi
Bilaval
Man mere karte nu salahi
Pran ke bachaiya
Added 3/30/05; Recorded at Milford on 3/30/05
Har charan sarana gobind dukh bhanjana
Mai bouri mere ram bhatar
Dhansri
Partaal
Je gur chidke ta mitha lage
Added 3/29/05; Recorded at Milford on 3/29/05
Hou reh na sakaa bin dekhai pritma
Majh
Preey ki preet pyari
Hamir
Sajana sant aavoh mere
Malkauns, Bageshri, Multani, Jaijaiwanti, Durga, Hamir
Anand Sahib
Madhuwanti
Added 3/28/05; Recorded at Milford on 3/28/05
Kawal nayn madhur bain (Bhai Gupal Singh)
Darbari Kanada
Waheguru tera sabh sadka
Abhogi Kanada
Jhaptal, Tintaal
Tarana
Abhogi Kanada
Pati tore malini (composition by Gian Singh Ji Almast)
Kalavati
Anand Sahib
Yaman Kalyan
Added 3/27/05; Recorded at Milford on 3/27/05
Asa Ki Var 1
Asa Ki Var 2
Asa Ki Var 3
Asa Ki Var 4 (Jis pyare seo neh)
Bibhas, Prabhati,Gunkali,Bhatiyar,Sohni,Bhairav, Ramkali, Ahir Bhairav
Asa Ki Var 5
Asa Ki Var 6
Asa Ki Var 7
Asa Ki Var 8
Asa Ki Var 9
Asa Ki Var 10
Hou balihari jou prabh dhiavat (Harmindr Kaur, Mohinder Kaur)
Bilaval
Dekh phool phool phoolai (Amrit Kaur Mehr Kaur)
Basant Bahar
Partaal
Jap man mere eko nam
Shuudh Sarang
Hum bhikhat bhikhari tere
Tun kun re mai ji
Bhairavi
Agya bhai akaal ki
Prabh su lag ryo mera chit
Pradipki
Anand Sahib
Ramkali
Added 3/27/05; Recorded at Milford on 3/26/05
Aaj hamare mangal char
Basant Bahar
Partal
Raj leela tere nam banai
Asavari
Karaj tera hovai poora
Ahit Bhairav
Kat jaiye re ghar lago rang
Basant
Tu kae garbay bavalee
Bahar
Bajat basant
Guldasta
Kahun kot ki kahani
Bhairavi
Sach fateh bulai Gur Ki
Anand Sahib
Added 26/3/05; Recorded at Milford on 24/3/05
Mere lalan ki sobha
Yaman Kalyan
Basant chadiya phooli ban rae
Guldasta (Shuddh Basant, Basant Hindol, Basant Bahar)
Panjtaal, Iktaal, Tintal
Basant ki var
Anand Sahib
Added 25/3/05; Recorded at Milford on 25/3/05
Man kahan bisaryo ram nam (Bhai Gupal Singh)
Basant (Marwa Ang)
Partal
Chetna hai to chet lai
Tilang Kafi
Sajjan mere rangule
Kafi
Mere jiyade pardesiya
Deho sajjan asisadiyan
Gur ka bachan basi ji naale
Bhupali
Added 12/5/04; Recorded at Hopkinton on 12/4/04
Jap man satnam sada satnam
Salig Bairari
Jhaptaal
Mai moro pritam ram batavoh ri mai
Asavari
Tu data jiyan sabh na ka
Gujri Todi
Mere rajan mai bairagi jogi
Bairagi
Bhairav Gave
Guldasta
Iti naubate ghananana ghananana ghaniyar ut garje (Tarana)
Anand Sahib
Ramkali
Added 12/4/04; Recorded at Millis on 12/3/04
Gur ka bachan base jee nale
Bhupali
Tis agai hai jodhri
Bhinn Shadjha
Narayan narpat namaskare
Darbari Kanada
Iktaal, Tintaal
Kou hai mero sajan meet
Nat
Partal (Sikhar Taal - 17 beats, Rupak, Tintaal)
Mai chareh kundah bhaliyan
Tilang - Kalavati
Sajana sant aavoh mere
Guldasta (Malkauns, Bageshri, Multani, Hameer, Sorath, Jaijawanti, Durga, Bahar, Basant)
Sapat suran (Chaturang)
Tilang
Anand Sahib
Yaman Kalyan
Added 11/7/03
Aaj more aaye hain
Desi Todi
Chim chim varse
Chalange uth naam jap ji
Asa
Chuka nihohra sakhi saheri
Asa
Darshan deejai khol kivaad
Lalit
Tintaal
Dilli ke dilwale teri aagy a mein chalat hain
Ahir Bhairav
Gun hi bhariya main phiran lok kahe darvesh
He Gobind Hey Gopal Hey Dyal Lal
Asavari
Hum bhikhat bhikhare tere tu nijpat hai raja
Ite naubate ghanana ghanna
Jagat jalanda rakh le apni kirpa dhar
Gujri Todi
Judh ke jittaiya
Khub teri pagdi mithe tere bol
Koi Naam Na Janai Mera
Dhanasri
Kya jana kya hoyega ri mai
Asa
Tintaal
Laag phiryeyo tan aas jite
Asavari
Man Rango Wadhbhagiyo
Puriya
Man vajiyan vadhaiyan
Ramkali
Mero Baap Madho tu dhan keso
Pita Parbrahm Prabh Dhanee
Ram paras chandan
Dhan Dhan Oh Ram Ben Baaje
Bhairav
Tintaal
Hou Vaar Vaar Jaoun Gur Gopal
Asavari
Rudra
Sun Meeta Dhuri Kou Bal Jayee
Sorath
Deepchandi
Baras Ghana Mera Man Bhina
Shudha Malhar
Tintaal
Bajat Basant
Guldasta
Partal
Anand Sahib
Ramkali
Tintaal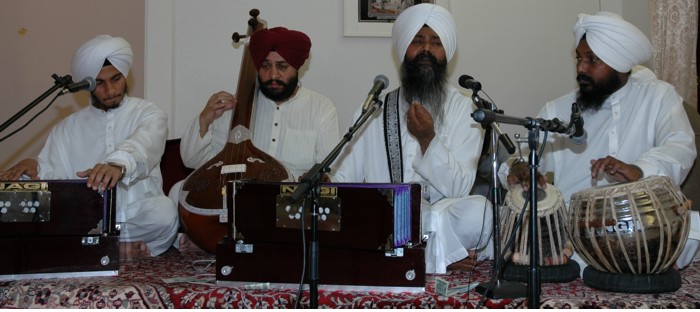 Bhai Gurmeet Singh Shant and his Jatha at Milford on 3/26/05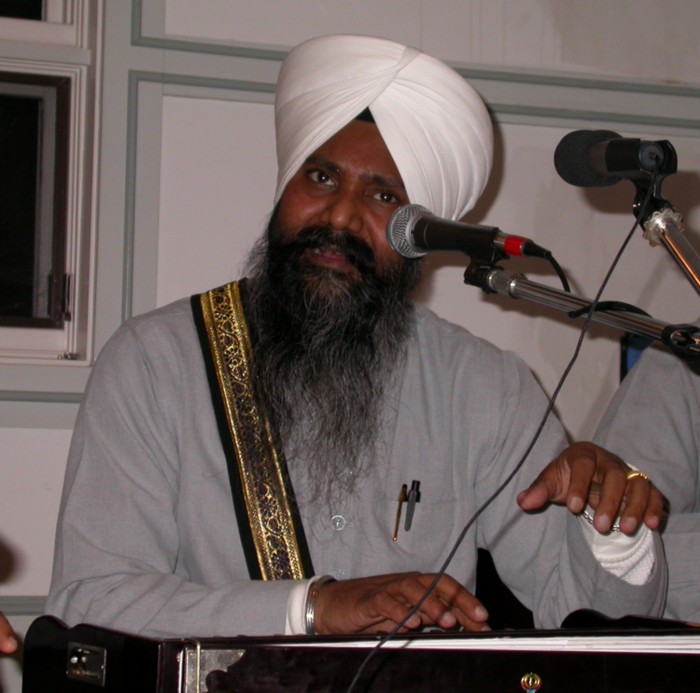 Bhai Gurmeet Singh Shant at the Millis Gurdwara on Friday December 3 2004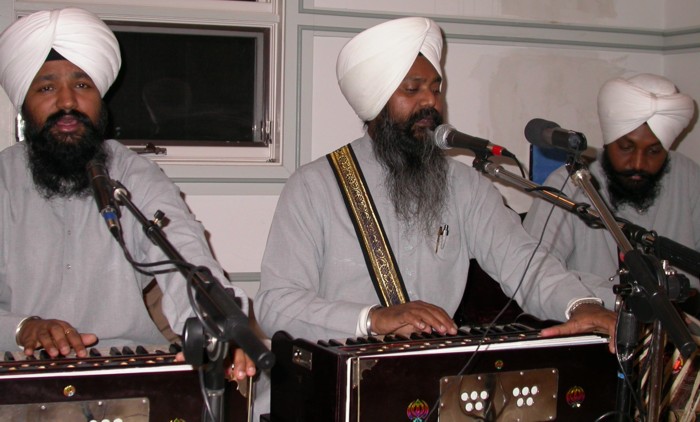 Bhai Gurmeet Singh Shant and his Jatha, offering Kirtan Seva at the Millis Gurdwara on Friday December 3 2004 ( l - r Bhai Heera Singh, Bhai Gurmeet Singh Shant, Bhai Manjit Singh)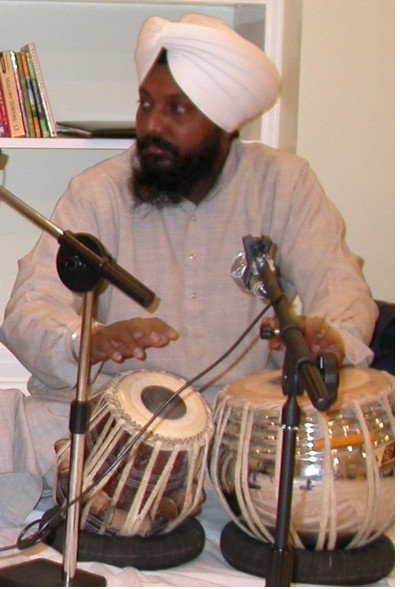 Bhai Manjit Singh at Hopkinton on December 4, 2004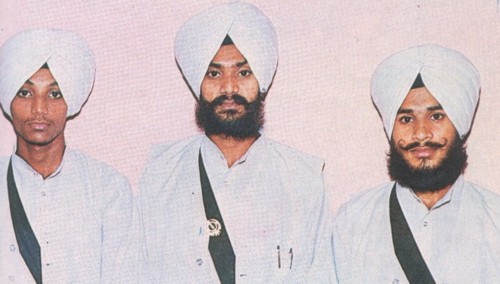 Bhai Gurmeet Singh Shant(c) & Bhai Manjit Singh (l) at the first Javadhi Sammelan