Bhai Narinder Singh Banaraswale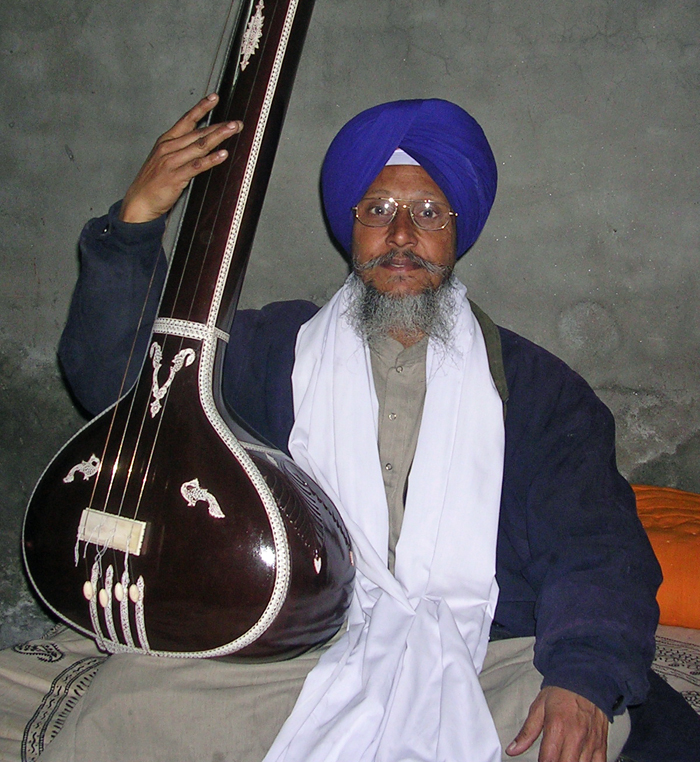 We are grateful to S. K.J.Singh Ji for contributing this photograph.
Bhai Narinder Singh Banaraswale is without a doubt one of the finest Ragis in the Panth today. He is a Huzoori Ragi at the Sri Harmandir Sahib and is one of the few Ragis who has been uncompromising in his attempts to preserve the Gurmat Sangeet tradition.
We do not have a lot of bigraphical information on Bhai Sahib and would greatly appreciate any inuts from the Sangat as well as a photograph.
At a personal level, Bhai Sahib's singing has always had a profound impact on me. The article referenced by this link briefly describes my first encounter with Bhai Sahib Subsequently I met Bhai Sahib during a visit to Sri Harmandir Sahib in 2006. I was hard pressed for time and had spoken to Bhai Sahib a few times in advance of my visit. We had planned to go to his home and perhaps record him. We ended up meeting at the Akal Takhat Sahib. I was truly impressed bu Bhai Sahib's humility, the Seva Bhavna that abounds in his heart and his commitment to keeping the Gurmat Sangeet tradition alive at the Sri Harmandir Sahib. Today, we see varying drgrees of adoption of stringed instruments at the Sri Harmandir Sahib, which is a very positive development. Bhai Sahib is on of the few Ragis who uses the Tanpura to sing rather than a visual prop ! For several years he has been one of the few Huzoori Ragis who have eschewed popular trends and have stayed true to the tradition of Gurmat Sangeet.
We are grateful to Veer Angad Singh from Singapore for contributing these recordings; we would love to have many more on this website.
Bio (Provided by S. K.J.Singh)
Bhai Narinder Singh ji is a Hazoori raagi at Durbar Sahib Amritsar since 1993.He was born in Hosharpur.He learnt the Gurbani Kirtan from his father Gaini Puran Singh ji & from Bhai Darshan Singh Sol who had studied under Giani Gian Singh Almast. He has performing Gurbani Kirtan since 1972 first at Gurudwara Kalgidhar Ludhiana (1976-19832; Banaras (1982- 1988); Gurudwara Kalgidhar Ludhaina (1988-1990); Gurudwara Dukh Nivaran Sahib Patiala (1990-1993) He has extensively traveled all over India performing Kirtan in almost all states of India & also performed in Canada, Dubai, Thailand, Kuwait & Malyasia.He follows the Gurmat Kirtan Maryada & sings Gurbani in Raaga prescribed in GuruGranth Sahib. He also imparts this raag vidya to number of students.He has the blessings of Sant Baba Nika Singh ji Nirmaly of Rishikesh under whom he learnt Shabdh Bodh & also performed Kirtan. His three sons Gurucharan Singh, Gobind Singh, Onkar Singh & daughter Sarvjot Kaur are all his students.