Bhai Parkash Singh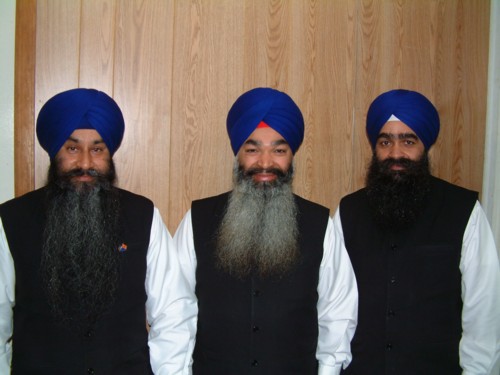 Bhai Shivcharan Singh, Bhai Parkash Singh, Bhai Harbhajan Singh at Bridgewater NJ in 2004
Photograph and recordings contributed by S. Navjot Singh.
Bhai Parkash Singh is a senior student of Gyani Dyal Singh Ji's. Blessed with a melodious voice, Bhai Parkash Singh has an extremely rich repertoire of Gurmat Sangeet compositions. Bhai Shivcharan Singh provides excellent support on vocals, mandolin and harmonium. Bhai Harbhajan Singh, also a student of Gyani Dyal Singh Ji's has mastered the intricacies of various talas inclusing Dhrupad talas. The Gurmat Sangeet Project is proud to feature many recordings by Bhai Parkash Singh. The kirtan was recorded live, in the huzuri of the Sri Guru Granth Sahib at the Bridgewater Gurdwara in New Jersey in 2004. Bhai Parkash Singh started his association with the Bridgewater Gurdwara in the mid 90s. His Jatha was retained to start Kirtan classes in Bridgewater at the initiative of S.Gurparkash Singh Ji. The effort has had a remarkable impact; a large number of Central New Jersey children, over the years have benefited significantly from the instruction.