Professor Harchand Singh Kalsi Ji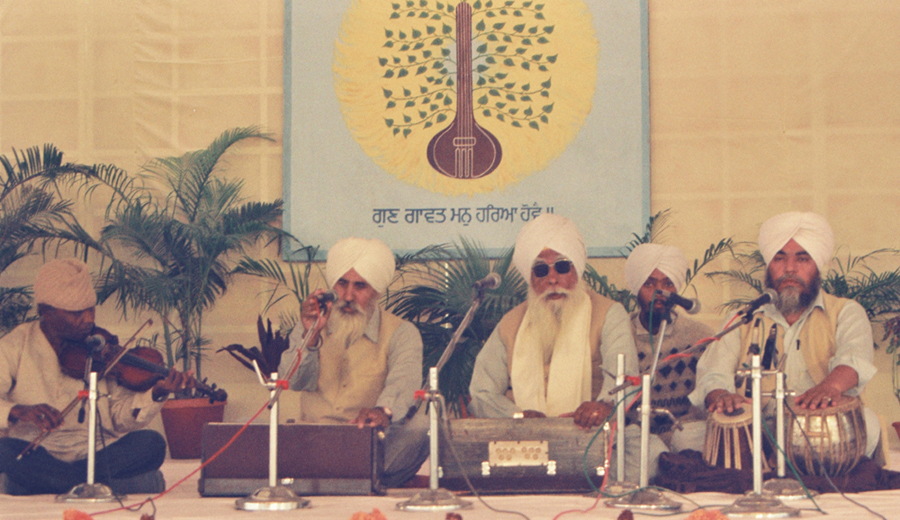 Professor Harchand Singh kalsi was born in Kishan Garh, a village in the District of Ferozpur in 1923 to Bibi Permeshwari Devi and S. Sajjan SinghB hamra, a Sepoy. After initial training with Bhai Megah Singh at Moga, he studied with Krishna Rao Shankar Pandit Ji of the Gwalior Khayal Gharana. He served as Hazuri ragi at Shri Harmandir Sahib, Amritsar. and established a Gurmat Sangeet Vidyala at Moga. In 1948, he was appointed the Director of a radio station started by The Maharaja Of Faridkot. Subsequently he also served as Hazuri Ragi at Gurdwara Sis Ganj Sahib. He returned to Ludhiana and complete an MA in Music and started to perform at the Jalandhar Radio station. S. Harchand singh ji was adept at playing various musical instrumenst such as Violin, Dilruba & Sitar. He was a writer and a poet; his books include "Agami Krishmey", "Agami Tarane", "Sharda de Phool" and "Kalsi Nagme. He passed away on 18th October 2003 in Ludhiana, Punjab India.
The Gurmat Sangeet Project is happy to bring you two shabads by this magnificent Kirtaniya, contributed by our listeners.
We are delighted that you enjoy the large repository of recordings that the Gurmat Sangeet Project provides to the Sangat. Very infrequently we raise modest amounts of funding for specific needs. We need two high quality Harmoniums for use in programs we organize. Please support our efforts by contributing generously.

Contributions : $525.....................................................................................................................................................Goal : $1000

| | |
| --- | --- |
| One time Seva for Harmoniums | |

Tum Ho Sabh Rajan Ke Raja
Prof. Harchand Singh Kalsi
Chandrakauns
Keerat Prabh Ki Gavoh Meri Rasna
Prof. Harchand Singh Kalsi
Darbari Kanada