Bhai Shamsher Singh 'Zakhmi'
(Note : scroll down for MP3s)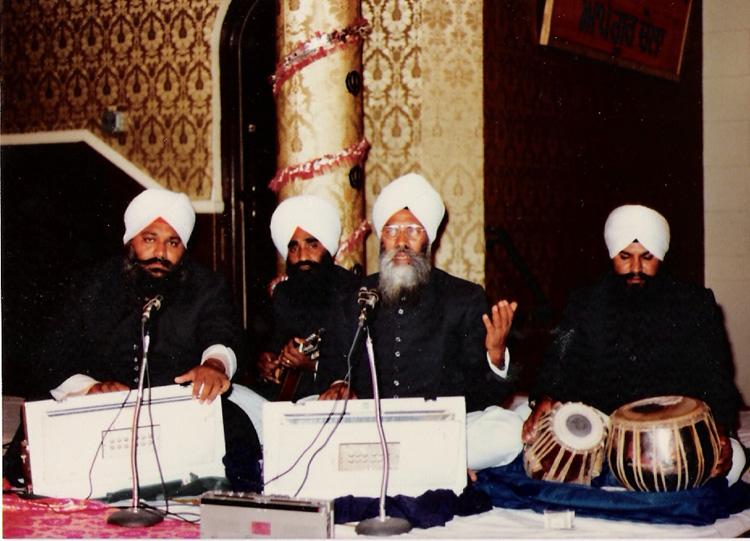 Bhai Shamsher Singh Zakhmi Ji and his Jatha in New York
(l - r Bhai Mohanpal Singh, Nihal Singh on Mandolin, Bhai Shamsher Singh Zakhmi, Akaal Singh on Tabla)
Photograph contributed by S.Nachhatar Singh Sahota Ji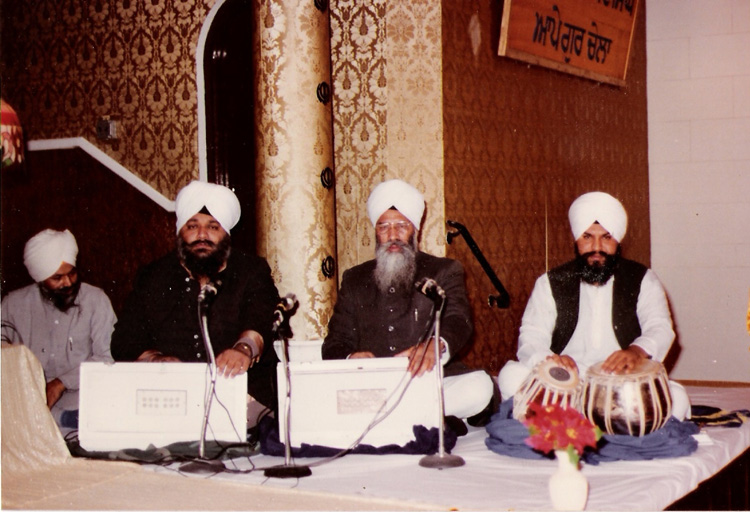 Bhai Shamsher Singh Zakhmi Ji and his Jatha in New York
(l - r Bhai Mohanpal Singh, , Bhai Shamsher Singh Zakhmi, Akaal Singh on Tabla)
Photograph contributed by S.Nachhatar Singh Sahota Ji
Bhai Dharam Singh Zakhmi was one of the greatest Ragis of the 20th Century. Bhai Dharam Singh Ji became an Amritdhari in 1947. He spent years studying Gurbani and was an excellent and erudite speaker. In particular Bhai Sahib was very familiar with the Bani of the Dasam Granth as well as the Ghazals of Bhai Nand Lal. Often Bhai Sahib and his Jatha would sing Persian Ghazals by Bhai Nand Lal accompanied by the beautiful translations of Bhai Megh Raj Garib Ji. His Jatha included his brother Bhai Shamsher Singh Ji, who particularly in the latter years of Bhai Sahib's life did most of the musical 'heavy lifting.Bhai Shamsher Singh was blessed with a buland (soaring) voice which he used to great effect. These recordings feature Bhai Mohan Pal Singh, part of the legendary duo - Bhai Pirthipal SIngh Bhai Mohanpal Singh.
The Gurmat Sangeet Project is extremely proud to feature these recordings by Bhai Shamsher Singh Zakhmi. The recordings were obtained from three sources.
The first set of recordings were made in Canada in the early 80's. They were contributed by S. Sukhdeep Singh Ji from Australia.
A much more extensive set of recordings was contributed by S Nachhatar SIngh Sahota Ji; these are in the process of being digitized and will appear on this page soon.